Users can configure the default behavior of documents they choose to download. Options include: saving immediately, queuing a download to a personal My Downloads area, and being asked for the proper action each time.
How to set the default download behavior
Go to User Name > My Settings.
Click the drop-down next to Default Download Options and select:

Download Now: This downloads files immediately to the location set within your web browser.
Download to "My Downloads": This downloads files in the background to a personal My Downloads area in SafeSend Organizers. Users can access this area by going to User Name > My Downloads.
Prompt Me Every Time: This brings up a dialog asking if the user wants to download the files immediately or to queue them for download in the My Downloads area.
More information about My Downloads
The My Downloads area in SafeSend Organizers lets users collect documents asynchronously while they continue to work. This is useful if downloading a large file or many files which will take significant time to complete. With My Downloads, users can continue to work while SafeSend Organizers assembles the documents in the background.
The My Downloads dialog shows a user downloads that they have initiated. Each download is separated by an icon and a line. From this dialog, users can:
See the filter that was applied when the download was started.
See information about the download, which includes:

Name of the generated zip file.
Date that the zip file was created.
Size of the zip file.

Click a collapse icon to show or hide information about the download.
Click a download icon to download the zip file immediately to the local computer.
Click the delete icon to delete the download.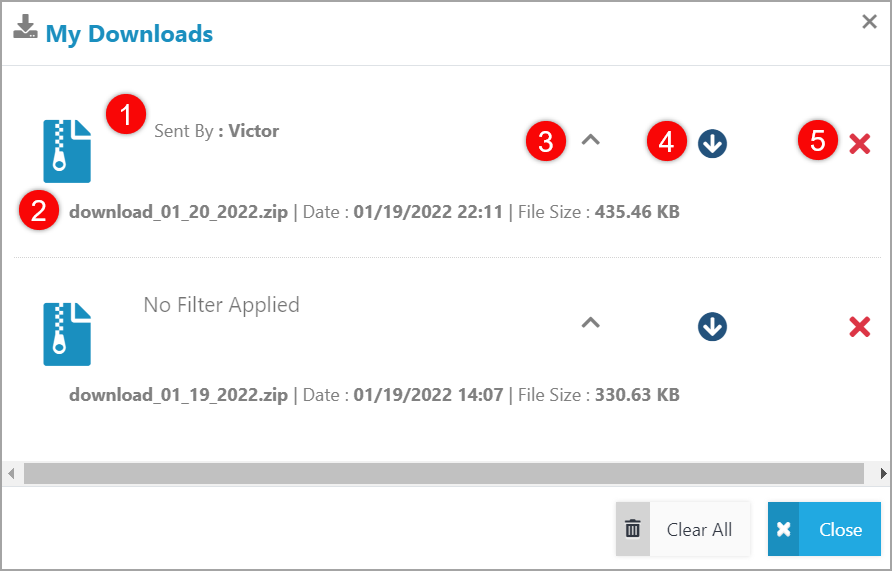 Additionally, users can click Clear All to remove all downloads from the My Downloads dialog.
Info
Files in My Downloads are not automatically deleted. Users should delete downloads after retrieving the files or periodically use the Clear All button.
If files are still being collected and zipped by SafeSend Organizers, the user will see a spinning circle and will not be able to download.